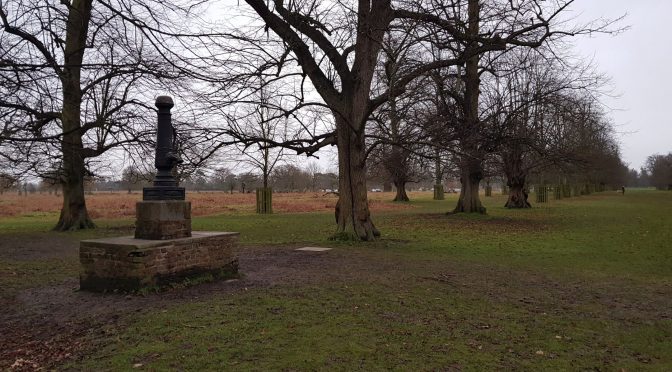 Bushy Park February Challenge
Note: The challenge remains open to do at anytime, if you'd like to compare your score to others!
Our February challenge takes us across the Thames to Bushy Park, an area rarely used for orienteering but now featuring a brand new map by Dave Wright and a course by Steve Clelland.
Please only take part in this challenge if you can safely do so within the latest government restrictions, as part of your daily 'individual exercise' allowance.
Location
Start and finish are on the small fountain (not the big Diana one!) shown in the picture at the top. As you'll see from the map, this is about 250m north of the main Diana Fountain car park, just east of the main Chestnut Avenue thoroughfare.
Bushy Park is easily accessible from many directions, and all the information you need is on this page. Please note that the car parks get extremely busy especially at the weekends, so come by bike if you can.
Note that Bushy Park has the excellent Woodlands cafe (open for takeaways), and a small snack hut at the Diana car park.
Location
Bushy Park
Address
Bushy Park
Latitude/longitude
51.4142, -0.3341
OS grid reference
TQ159696
Maps
Google Maps, OpenStreetMap
Format
We'll be using the same 'score' format as in previous months, where you have an hour to collect as many points as possible. Using the map provided, find controls in whichever order you like, collecting 10 points for each control starting with a 1, 20 points for each one starting with a 2 and so on. Make sure you're back within the hour to avoid a 30-point penalty per minute late.
As previously, we'll be using the MapRunF timing app, which also means that you can do the challenge anytime you like before the end of February.
Technical details
If you haven't already, please install MapRunF on your phone and download the challenge from UK > South London > StreetO > Bushy Park Feb21. If you'd like to run with a Garmin watch instead of your phone, follow these instructions as well.
Next, download and print the race map from here (you will need this to navigate.) You can also print out the clue sheet using 'IOF symbols', or the clue sheet in English, which may help in finding the exact control locations.
Note that (as usual), North is at the top of the map when printed and due to lack of space, the map has no legend but you can download one here.
Once you're ready to go, press 'Go To Start' (there is no code required) and the App or watch will start automatically when you're at the start location. The App will record each control (beeping each time) and then finish once you're back at the start location between the ponds.
Important: Do not run past the start/finish partway around your course (unless actually finishing), because the App will assume you've finished and stop your time.
Your result should be uploaded automatically, but you may need to 'Get Track from Garmin' if you're using MapRunG.
All competitors take part at their own risk.
Enjoy the challenge! If you have any questions, just ask me on