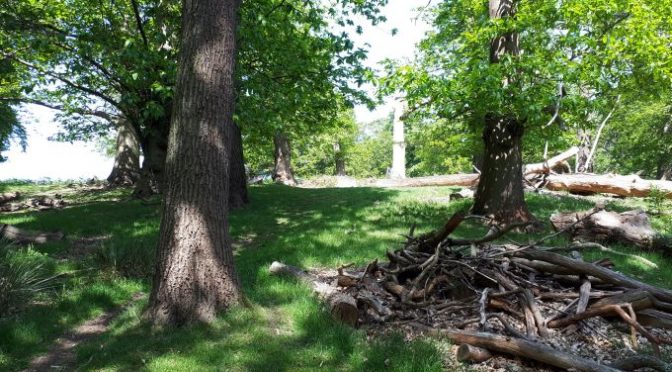 Richmond Park January Challenge
Happy New Year from South London Orienteers! To celebrate the arrival of 2021, our January Orienteering Challenge is now available to complete anytime before the end of the month.
This time we go back to park orienteering using a 'real' orienteering map of Richmond Park, which offers particularly good running at this time of year when the bracken is low.
Location
Start and finish are between Pen Ponds, right in the middle of the park.
For access by car, the nearest car park is Pen Ponds Car Park about 500m to the South-East. This can only be accessed from Roehampton Gate and gets extremely busy at peak times so I highly recommend coming on weekdays and/or in the first two or last two hours of park vehicle opening times (which can be found here for 2020, expect 2021 to be similar.) You might have better luck at Broomfield car park, which is just over 1km from the start and accessible from Kingston Gate.
For more environmentally friendly access, come by bike and leave it at Pen Ponds car park (as you're not allowed to cycle past the start.) The car park can easily be accessed from all Richmond Park gates.
Or alternatively, walk or run directly to the start – Ham, Sheen, Roehampton, Robin Hood and Richmond Gates are all within about 1.5km of the start, with the latter offering the best public transport options.
Note that Pen Ponds car park has a cafe if you'd like a drink or snack after the run.
Location
Richmond Park
Address
Between Pen Ponds
Latitude/longitude
51.4433, -0.275
OS grid reference
TQ199729
Maps
Google Maps, OpenStreetMap
Format
We'll be using the same 'score' format as in previous months, where you have an hour to collect as many points as possible. Using the map provided, find controls in whichever order you like, collecting 10 points for each control starting with a 1, 20 points for each one starting with a 2 and so on. Make sure you're back within the hour to avoid a 30-point penalty per minute late.
As previously, we'll be using the MapRunF timing app, which also means that you can do the challenge anytime you like before the end of January.
Technical details
If you haven't already, please install MapRunF on your phone and download the challenge from UK > South London > StreetO > Richmond Park Jan21. If you'd like to run with a Garmin watch instead of your phone, follow these instructions as well.
Next, download and print the race map from here (you will need this to navigate.) You can also print out the clue sheet using 'IOF symbols', or the clue sheet using text descriptions, which may help in finding the exact control locations.
Note that (as usual), North is at the top of the map when printed and due to lack of space, the map has no legend but you can download one here.
Once you're ready to go, press 'Go To Start' (there is no code required) and the App or watch will start automatically when you're at the start location. The App will record each control (beeping each time) and then finish once you're back at the start location between the ponds.
Your result should be uploaded automatically, but you may need to 'Get Track from Garmin' if you're using MapRunG.
Important notes
The Richmond Park orienteering map is a little out of date, so the ground may not always look exactly like you expected it from the map! In particular, there are many new footpaths and small (often wooden) fences, while some paths and fences on the map may be less prominent than mapped. However, control locations have been selected to be as unambiguous as possible, so hopefully you won't have too many issues.
At the time of writing (early January), the park is very muddy so sturdy footwear such as trail shoes or O shoes are recommended.
Please only take part in this challenge if you can safely do so within the latest government restrictions. Richmond Park is a vast but very popular destination, so please ensure you give everyone space, including other walkers, runners, cars, cyclists, dogs and of course the deer!
All competitors take part at their own risk.
Enjoy the challenge! If you have any questions, just ask me on