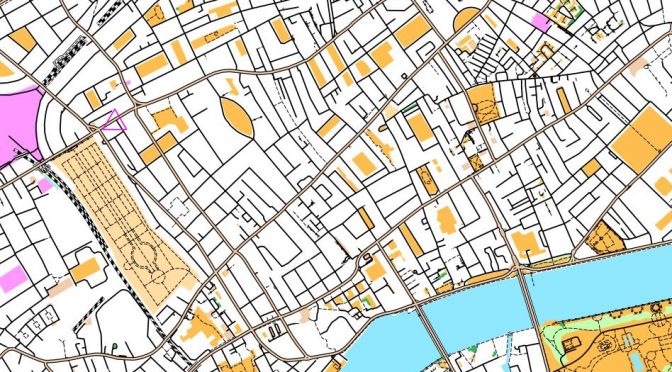 Teddington Street-O Results
*Update 17/11 – Series Results added*
Last night saw the third race in our Street Orienteering Series, courtesy of Dave Wright and Fran Kenden. You can find the Race Results and Series Results (after 3 races).
Dave says: "I hope you enjoyed your visit to the various corners of Teddington, and, for some of you, Ham as well.  I only expected about 60 entries but in fact there were 82, with a total of 96 participants (due to pairing).
My plan was always to tempt faster runners to cross the river to Ham but for clearing the course on the Teddington side to in fact be the better strategy.  Pleasingly the winner, Steve Clelland, did not venture over to Ham. An additional planning issue was to ensure that those with local knowledge would not gain by venturing off the map to cross the river at Kingston Bridge.  I'd discounted the possibility, mentioned by one participant, of swimming across!
Thank you to Nick, Alan and Fran for their invaluable assistance."
Our next race will be on the other side of the river in West Hampstead on Tuesday 11 December and details will be available shortly.
Matthias Mahr, Street-O coordinator