Results from the 35th Surrey Hills Race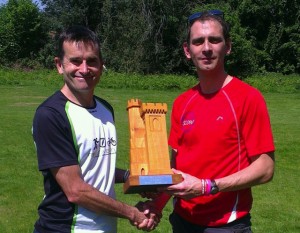 Results from the 35th Surrey Hills Race:
Right: Dave Rollins from Tri Adventure receiving his B course trophy from South London Orienteers Vice Chairman Dan Findlay-Robinson.
Race Report
A fantastic turnout for this classic southern Fell Race with 127 hardy entrants who took up the challenge of competing on the hottest day this year.
The A race of 30km certainly took no prisoners and as ever proved a challenging course taking in the summits of Leith, Pitch and Holmbury Hills, congratulations to all those who completed this and the other two courses, it certainly wasn't a walk in the park for anyone.
As ever this race could not happen without the brilliant work by our volunteers, so I would like to thank, Andy and Chris Robinson, Gordon Parker, Dorte Hansen, Libby Schofield, Katie McInnes, Becky Kingdom, Tom Rafferty, Paul Couldridge, Jane Harries, Mike and Jun Garvin, Charlie and Teresa Turner and the Morris Family for their sterling work. It Is appreciated as always.
It was a clean sweep in new winners this year but unfortunately no records were broken this year, essentially down to the high temperatures the competitors had to battle.
Dan Findlay-Robinson
Men's A – 30km
1st – Ben Stevens (Oxford University OC) 134.39
2nd – Harold Wyber (Woodford Green AC with Essex Ladies) 136.08
3rd – John Smallwood (Unattached) 142.30
Women's A – 30km
1st – Sue Charter (Unattached) 189.28
2nd – Becky Kingdom (South London Orienteers) 190.24
3rd – Anne Davidson (Dorking and Mole Valley AC)
Men's B Race – 18km
1st – Dave Rollins (Tri Adventure) 68.09
2nd – Peter Nicholls (Guildford Orienteers) 75.53
3rd – Phil Marsland (South London Orienteers) 81.35
Women's B Race – 18km
1st – Ruth Holmes (Maidenhead AC) 97.30
2nd – Sonia Rowland (Ranelagh Harriers) 109.55
3rd – Catherine Robinson (Unattached) 113.28
Men's C Race – 10km
1st – Robert Hinton (26.2 RRC) 51.01
2nd – Sietse Braakman (Unattached) 56.11
3rd – Robin Mcdonald (Unattached) 65.51
Women's C Race – 10km
1st – Lise Retat (Unattached) 75.02
2nd – Sue Browne (Runney Honeys) 78.13
3rd – Isobel Clarke (Runney Honeys) 78.22