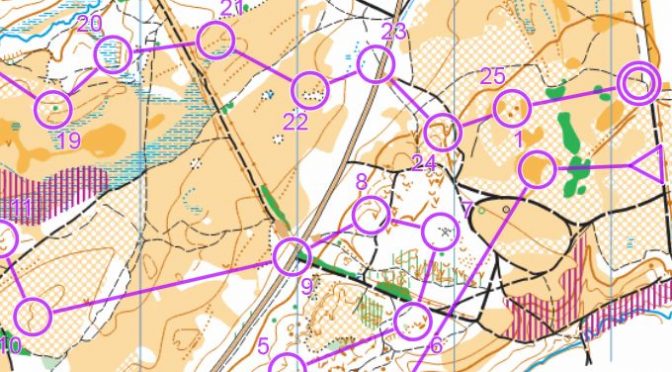 Autumn Series 2 – Ambersham
(Image above from the Guildford Orienteers Routegadget Website)
The SLOW "Autumn Series 2" race was in Sussex at Ambersham Common  – the same map used for this year's championship JK Saturday races back in April. It is one of the finest heathlands in the South Downs National Park. And as at the JK the planning was "middle distance". Thanks to Guildford Orienteers, particularly  to the main officials of Jim Morris (planner) and Frederick Smith (organiser). Robin Smith of Southdowns was controller.

With the weather bright and fine, assembly was in vast flat Polo fields  (thanks to Cowdray Park Polo Club), with great views of countryside towards densely wooded slopes to the north. A short warm-up walk/run led to the competition area.

Paul Couldridge won the brown course by nearly 4 minutes, and is looking forward to our club championships ( Wisley, Saturday 2nd December.)
(Updated 6th November.) Our Autumn Series uses unadjusted BOF Ranking Points for a light-hearted comparison of our runs. Here is a summary of SLOW runners, with Autumn Series points.
| | |
| --- | --- |
| Brown 5.3km/95m, 25 controls | Points |
| Paul Couldridge | 100 |
| Ollie O'Brien | 99 |
| Andy Jones | 98 |
| Paul Nixon | 97 |
| Yordan Kolev | 96 |
| Dmitry Adamskiy | 95 |
| Charlotte Turner | 94 |
| Charlie Turner | 93 |
| Gordon Parker | 92 |
| Simon Moss | 91 |
| Diane Leakey | 90 |
| Fiona Tam | 85 |
| Lydia Farzin-nia | 83 |
| Blue 4.8km/70m, 25 controls | |
| Paul Street | 89 |
| Dorte Torpe Hansen | 88 |
| Sarah Brown | 87 |
| Stephanie Moss | 86 |
| Green 3.9km/45m,19 controls | |
| Karen Jones | 84 |
| Teresa Turner | 82 |
| Virginia Catmur | 81 |
| Gail Parker | |
| Orange 2.1km/15m, 8 controls | |
| Jemima Hayward-Bhikha | |