New SLOW Kit
We are pleased to announce the launch of the new SLOW orienteering kit. The new kit will be produced by Norwegian manufacturers Trimtex, whose designs will be familiar to any of you who were at the World Cup races in May – they manufacture the current GB squad kit, as well as that of many other international teams. People may have also spotted that a few British clubs (eg Southdowns) have recently started wearing these new kits.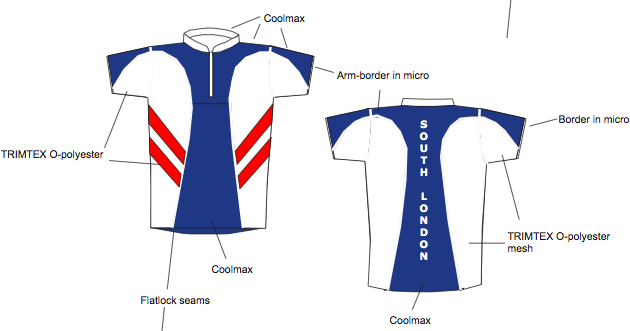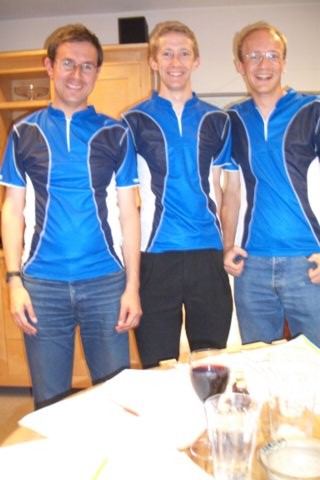 The tops are short-sleeve, partly meshed "o-polyester" material. You can see the new club design above along with a photo of Trimtex kit samples being modelled by a few club members at the last committee meeting! (Note that these samples are different colour designs to the new SLOW kit; the blue colour to be used in the actual kit is the same as the royal blue which appears in the centre of the sample kits). Click here to see full picture of new kit.
The cost will be around £30 per top (only £2 more expensive than the existing kit). Our aim is to have the new kits ready to launch at the Compass Sport Cup final on 16 October. (What better way to scare the opposition at the Final than by all turning up in our pristine new club O-kit!). However there is an 8 week delivery time on kits, so we will be placing the order in early August – please let me know by then if you want a top.
We are not intending to order many surplus kits, so if you are likely to want one then please reserve it now in time for our order to Trimtex – otherwise you may have to wait a long time until a subsequent order is made, and it will probably be more expensive too (as smaller orders to Trimtex cost more per kit).
O-trousers
We will only be ordering O-trousers if there is sufficient demand for these as well. Trimtex offer a choice of trousers:
(i) 'standard' O-trousers,
(ii) standard with elastic under the knee and with/without sewn in gaiters,
(iii) "Extreme o-pants", which are knee-high, using o-polyester material. These would be in the same blue colour as the tops. Please let me know if you are interested in ordering any of these O-trousers as well.
We will need a minimum of 5 orders of any type, and it would be quite a bit cheaper if there are over 10. Prices for option (i) are £14-£18 (depending on how many orders we make), and around £20-£25 for options (ii) or (iii). Let me know if you are interested in any of these, and I will confirm in due course whether we will be going ahead with this order.
Sizes
Before I make the final order for the tops, you will need to let me know what size you need – the choice ranges from XXS to XXXL! The tops are described as 'body hugging' and are therefore a bit tighter than current Ultrasport O-tops – you may want to order to a larger size than usual. If you would like to see the samples and try them on to work out your size (I have M, L and XL samples), I will be bringing the sample tops to various training events/Frolics over the 3 weeks, the social evening on Weds 27th July, and also to the Scottish 6-days.
How to order
All you have to do is let me know that you want a top (and/or trousers), and what size you need – either email (

) or see me at an event over the next 3 weeks or so. Payment can be made when the kits arrive. Let me know if you have any questions about the kit.
PS – there is still a small amount of the current SLOW O-kit in stock, which will continue to be available while stocks last. I am taking over this stock from Teresa Turner, so please contact me directly if you would like to order any of the existing kit.