Yvette Baker Trophy 2004 – Round 1
SLOW Juniors Qualify for the Yvette Baker Trophy Final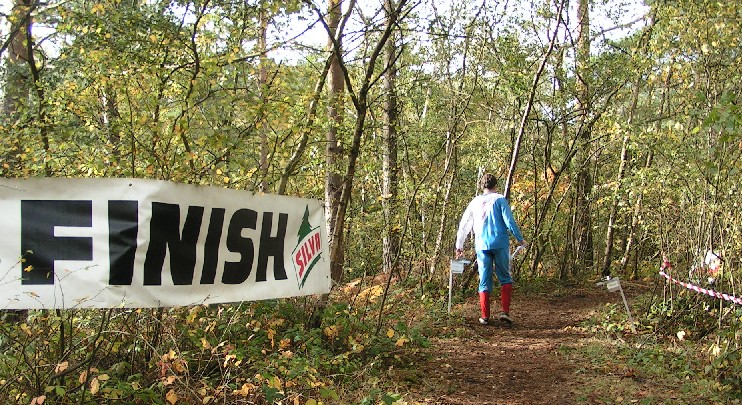 Last weekend the SLOW junior squad won the regional round of the Yvette Baker Trophy at Bagshot Heath. This is one of the most important orienteering competitions for junior orienteers in England. The team won a close competition with 889 points, ahead of Southowns (886), Guildford (870), Southern Navigators (869), & Mole Valley (283).
See http://www.geocities.com/Yosemite/2227/ybtresults.html for full results.
Our top scorers were: Sara Luescher (100), James McMillan (100), Anna Steinitz (99), Charles McMillan (99), Chris Wroe (99), Jenny Steinitz (98), Greg Street (98), Michael May (98), & Ian Hiddleston (98). Valuable backup was provided by Guy Hiddleston, Holly Clemens, Alice Clemens, Holly Snelling, & Laura Ashforth. And we had several potential future runners taking part non-competitively being shadowed by their parents.
The Yvette Baker Trophy final is on Sunday 5th December on Cannock Chase, just north of Birmingham. We shall be competing against other junior teams from all over England. The final is suitable for all juniors from the very youngest up to M/W20 of all standards from Yellow through to Green. You run a course based upon your ability (based on whether you have achieved gold standard) rather than your age. Last year we came a brilliant 5th in the final. We will need as strong a turnout as possible this year to try to do as well again. We will travel by hired coach to the event on Sunday morning. The club will subsidise this, so there will be no cost to juniors.
Please let Pete Huzan (SLOW Team Captain) know of your availability for the final as soon as you can by emailing captain @ sloweb.org.uk. Please also say if you would like to travel by coach (I hope you all do!). There will also be an opportunity for parents & other supporters to get a run at the event – so all club members are also invited. SLOW will provide extra training opportunities before the final. Details of these will follow soon.