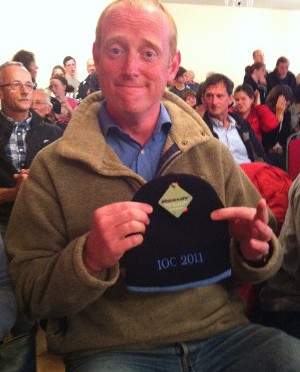 SLOW at the JK 2011 in Northern Ireland
Report by Alan Leakey
The Northern Ireland Orienteering Association may only consist of 4 clubs but they managed to put on an absolutely outstanding JK Event last weekend, featuring three top class areas, excellent course planning and organisation, and even dry and sunny weather! Despite the logistical challenges nearly 40 members of SLOW made the trip, flying in from Denmark, Luxembourg, Sweden and Switzerland as well as South London.
Not for the first time SLOW's best results seemed to lie in the Women's classes. In the complex and high density challenge of Strathmills University College Belfast for the sprint race Diane Leakey emerged victorious, taking the gold medal on W55, with Chris Robinson not far behind in 5th., whilst Anne May took 11th on W60. Meanwhile on the Elite courses the women definitely outdid the men with Helen Gardner placing 14th and Sarah Jane Gaffney 29th in W21E. On M55 Alan Leakey took 9th with Andy Robinson 11th.
On days 2 and 3 the sand dunes of Tyrella South and open fells of Slieve Croob provided tough physical and technical challenges for the classic individual races, which took their toll of many runners. But Anne May managed to win W60 Short with a margin of 20 minutes. Once again best results on the Elite classes came from Helen (23rd) and Sarah Jane (29th ).
It was back to the sand dunes of Tyrella for the relays and Christine, Anne and Diane combined to finish strongly to take 3rd place in the highly competitive Women's Veterans (W165+) class for SLOWs only podium place. Also worthy of mention are the Women's team with 13th in the Women's Open and the Men with 25th, whilst the massed ranks of the M165+ class saw SLOW taking 8th, 17th and 35th.
With a special mention to Gail Parker who stopped her run on Day 2 to help stretcher out of the dunes one young man who had collapsed with dehydration and apologies to anyone whose sterling performance in all round challenging terrain that I may have missed.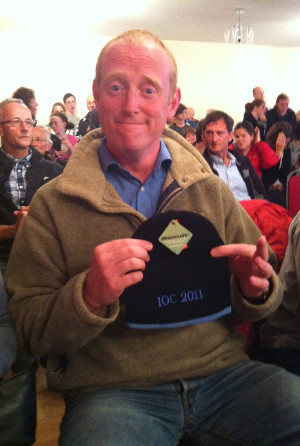 [Update: Many people combined the JK with the Irish Orienteering Championships, which took place the following weekend. Well done to James Morris who won M40S at the Irish Middle Distance Championships. The picture on the right shows him with his prize!]