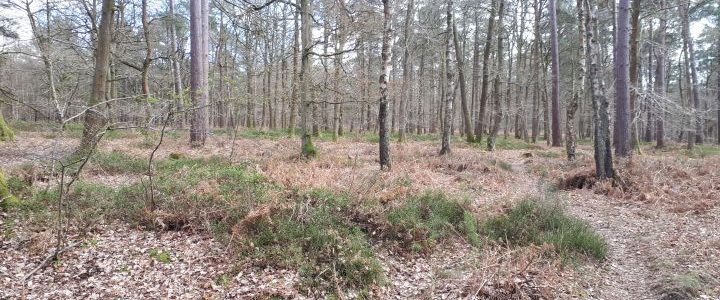 OK Nuts 2021 Event Invitation
UPDATE (7th May): link to Final Details.
UPDATE (4th May): Many of the classes using longer courses had very few if any starts slots left as normal entries closed. For the late entry period we have reorganised the allocation so most classes now have some free slots (current entry total is 506). If an Age Class you would like to enter is not available, please email

and we may be able to free up an additional entry in the desired class.
UPDATE (29th April): A way to use public transport to get to 3km of the event has been spotted. Trains arrive at Gomshall at quarter to 9 and quarter to 11.
UPDATE (26th April): Our event is now part of the South-East League and South-East Individual League
UPDATE (19th April): We are delighted to say that British and Continental Catering (Tom and Julie's Burger Van) will be attending.
The OK Nuts Trophy Races 2021 are on May 9th, at Winterfold, first-class forest orienteering terrain on the Greensand Ridge in Surrey.
We are very grateful to the local people who have given the OK for the event at relatively short notice.
The event is prepared and will run in accordance with government approved COVID Guidelines published by British Orienteering (the latest version April 13th).
As a part of the COVID Guidelines all taking part must review and abide by the individual Code of Conduct, please see below. Following these ensures that the sport is almost perfect for maintaining social distancing and having no contact with shared equipment.
As usual we have this invitation to enter, and there'll be "final details" published in the week running up the event.
Note: Unfortunately the social distancing we must use makes this event unsuitable for newcomers to the sport, and entry is only available to members of British Orienteering.
The Races
There are trophy races for juniors and seniors.
It is an excellent opportunity to enjoy individual start, classic distance age-class competition, with the British Orienteering age classes each mapped to a colour-coded course for the OK Nuts.
UPDATE (22nd April): When you enter please tell us which age class you want to run. Please see "Entries" below.
Previous map (Routegadget OK Nuts 2015)
The OK Nuts
The OK Nuts is SLOW's annual premier forest orienteering race. It is named after an orienteering club – OK Nutfielders – from the early days of the sport in England. The event was first held in 1977 at the Devil's Punch Bowl, and has been held nearly every year since.
The OK Nuts Trophy is named for Mike Wells-Cole, a British Champion and a member of Nutfielders OK, who died in 1976. The trophy is awarded to the winner of the senior men's course – please select "M21" at entry time for this course.
The Heather Monro Trophy is awarded to the winner of the senior women's course – please select "W21" at entry time for this course. Heather grew up orienteering with SLOW and had an illustrious international orienteering career topped by a bronze medal at the 2005 World Championships. (And also in 2005, Winterfold hosted a race in the Orienteering World Cup – see link to some photos in Terrain below.)
History of the OK Nuts, and list of past winners
COVID
British Orienteering – COVID Safe Orienteering
A key part of the protocols is the need for everyone to read and keep to a code of conduct. Please be seen to do this, before during and after racing.

The COVID-19 Code of Conduct
Please act as an ambassador for our sport at all times and consider how your actions may appear in the eyes of landowners and members of the public.
Please maintain social distancing at all times, keeping 2m from other runners, volunteers and members of the public.
Please use your own hand sanitizer at intervals, and that provided by the event when visiting toilets, at the start and at download.
The protocols mean there will no on-the-day prize-giving.
Possible Cancellation
We recognise the event may need to be cancelled because of COVID developments, even possibly at the last minute.

Risks
We will carry out a comprehensive risk assessment and take steps to mitigate risk. Nevertheless this is an outdoor sport in forest terrain used at all times by other people including fast-moving mountain bike riders. Longer courses have unmanned road crossings, and many courses use a manned timed-out road crossing. Competitors take part at their own risk.
Newcomers
An event such as this that preserves social distancing is not suitable for complete beginners in the sport.
If you are new to the sport and are not yet a member of British Orienteering, may we suggest our recent monthly challenges or our permanent courses? For example you could try a delightful course on the heathland of Esher Common?
You may also like to watch a new series of films about starting in the sport. Get Out & Go YouTube playlist.
Terrain
Winterfold is lovely on a nice day and great for challenging orienteering whatever the weather. It was used for the British Championships in 2013 (results) and the OK Nuts in December 2015.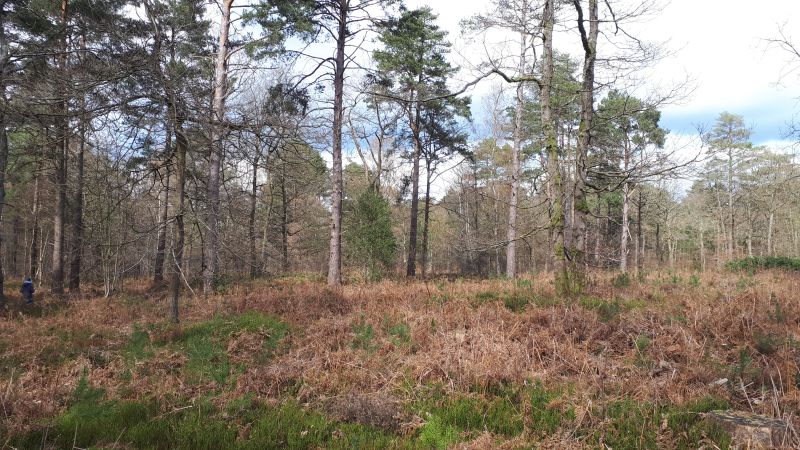 Winterfold was the venue for an orienteering World Cup race in 2005. Some photos. Our planner this year planned the World Cup Sprint Race in Battersea Park the day after. It was one of the earliest big races in that format.

In 2015 we said:
Winterfold is a mix of gentle and steep slopes, with many reentrants, gullies and paths. There are also sections of detailed broken ground and runnability is generally good. It offers a complete physical and technical challenge requiring both route choice and fine navigation skills.
Location
Car parking is in the large, gently sloping field of Peaslake Recreation Ground. This is reached by a short stretch of narrow track from Lawbook Lane.
Well-behaved dogs are welcome in the car park field.
Location
Winterfold
Address
Peaslake Recreation Ground
Latitude/longitude
51.192, -0.453
OS grid reference
TQ082447
Maps
Google Maps, OpenStreetMap
Note that access roads in the area are narrow, often single track and can be busy, including with cyclists. Please proceed carefully.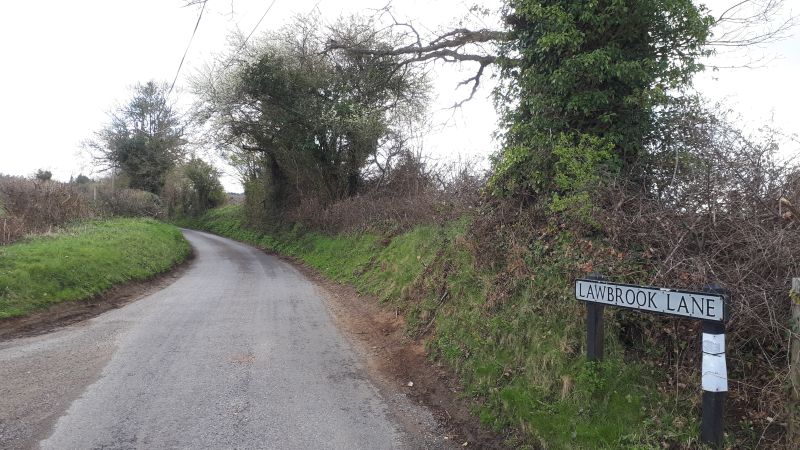 Unfortunately it is very difficult if not impossible to get close to the event using public transport.
Courses
You are welcome to choose any course, subject to a start time being available.
When you enter please choose an age class (not a colour), unless you wish to "run down" (a shorter course than you can run in the age class competition) – "Entries" below has more detail. You can run your own age class or "run up" by choosing the appropriate age class.
There is a full set of twelve colour-coded courses from Black to White, plus a special "M16 Blue" .
The Black course is planned with the aim that a top runner would take approxinately 67 minutes. It will be about 12km, with significant climb.
Other courses are planned in relation to the Black, in line (roughly) with the nominal ratios in the table below. So for example, the Short Green course at 0.33 might be about 4km plus one third of the climb of the Black.
M/W16 and under – sorry you cannot choose to "run up" at M/W18 or above. This is because the longer courses require unmarshalled road crossings.
M80, M85 – The OK Nuts are run on the VSG (Very Short Green) course rather than the SG (Short Green) course which is the National Guidelines course for these age groups.
The course/age class relationships are as follows.
Entries
Entries open by 8am on Tuesday 20th April.
British Orienteering members only.

The start and finish are not next to the car park. When choosing your start time we suggest you allow 20 minutes from car park to start line. This includes a short walk from the car park, and five minutes to move from pre-start to the start line. (For example an able 60 year-old needs 12 minutes for the walk.)
Much of the route is a slightly rising woodland footpath with sensitive out-of-bounds areas either side.
You can choose to run your own class or to run up (a longer course, or maybe the same course but in a "higher" class) e.g. W50 can choose W21, W35, W40, W45 or W50. (Or indeed the men's classes for those age groups.)
Only if you do not want to take part in the main age class racing, choose a colour + "Other" e.g. Orange – Other. Entering that way, by choosing a colour, means you will not count in the OK Nuts.
UPDATE (22nd April): The reason for asking this is the fact that multiple age classes share courses, and we want to recognise achievement by age class, so we present results in this manner – the results for the previous OK Nuts on Hankley Common 2019.
Enter via SiEntries.

Final results will be presented in the first case by age class, for the OK Nuts.

When you enter please choose an age class (not a colour), and allow the system to pick the course.
The races will use contactless SI Timing.
The entry system offers a choice of available 15 minute start blocks within the start window 10:00am – 1:00pm. When choosing your start time please bear in mind that courses will close at 15:00, especially if running black or brown. We need all runners to finish by this time.
Limit on Entry Numbers
We will be able to accommodate the numbers we have seen at the busier OK Nuts in recent years.
It is possible, but unlikely, that some courses will sell out.
To have a good choice of start time it may be best to enter early, especially for the several sorts of blue and green.
Standard entry closes Midnight Sunday 2nd May, or earlier in the unlikely event of the event filling (and in which case you can add your name to a waiting list.)
Late entries will be possible in the final week to 6pm Friday 7th, where there is availability.
There is no Entry on the Day.
Fees
Seniors
Juniors
Standard (British Orienteering member with their own timing card)
£12
£5
Late, if available
£14
£5
SportIdent Timer hire (SIAC)
(fee for loss £63)
£2
Personal Data
The personal data you give will be used by SLOW and their agents only for the purpose of processing and publishing the event entries and results, for conducting safety checks and to validate insurance cover.
Entries and results will be processed by computer, your entry will be taken as agreement to this. The competition is run under the rules and guidelines of, and sanctioned by, British Orienteering.
Results will be published on the SLOW website, and then on the British Orienteering website, after the race.
The club's data privacy policy is available on our website.
Refunds
We will make a full refund to anyone who needs to withdraw their entry because they or a member of their household has COVID-19 symptoms, or because they have been asked to isolate by NHS Test and Trace.

Officials
| | |
| --- | --- |
| Organisers | Sarah Brown and Paul Street |
| Planner | Andy Jones |
| Entries & Timing | Gordon Parker |
| Controller | Susan Crickmore (Southdowns) |
Contact: Paul Street –