OK NUTS Invitation
Our Annual OK Nuts Trophy event is on Sunday November 22nd.
Update: April 11th
We plan to hold the event on May 9th. This will be the OK Nuts 2021. We are not able to be based at Bentley Copse and are currently preparing an updated event invitation for publication on this website. We will publicise a date for entry opening with the invitation. We will post on our Twitter account when the event invitation is available.
Update: 2pm November 11th
Our plan is to put on the event if and when the COVID rules allow, giving reasonable notice but not opening entries until near the date.
We will co-ordinate with other south-east clubs, as we're all in pretty much the same position of needing to know what rules apply when. We're currently looking at the last weekend in January as a possibility.
Update: 10:30pm November 1st
Our understanding from yesterday's statements is that government regulations to reduce the spread of COVID will mean it is not possible to hold the OK Nuts on November 22nd, as was intended as recently as two days ago. Sorry. We will write more later in the week.
Update: 9:30am October 31st
Entries will not open on Sunday 1st November as previously announced.
Overnight there have been government leaks of a full lockdown in England for a month starting next week. The reports say the Prime Minister is to give a speech on Monday to make the announcement.
Given that this has been the common way policy is tested prior to official announcement it makes sense to hold off opening entries until Wednesday to save us all a lot of trouble.
If entries do open on Wednesday it will be at 9am.
Update: 11pm October 30th
Entries will open at 9am, Sunday 1st November, when the event will appear on SiEntries.

Limit on Entries

The event may sell out as we do not have as much car parking as we originally hoped.
The overall number of entries we can accept is 430.

If the event sells out we will operate a waiting list through SiEntries. This will be used if people withdraw, as they might for COVID related reasons.
Possible Increase in Entry Numbers

We have added a question to the entry form to get information about the number of cars as this is what is limiting entries. (Please email the entries secretary if you plan to bring a camper van or minibus.)

If, when the numbers limit is reached we have space for more cars, then we will invite from the waiting list. Government guidance on car sharing is reproduced below.

If you choose an early start block
In accordance with the COVID protocols and pressure on car parking, it will be very helpful that if you choose an early start block then you leave as soon as you can after finishing and downloading, and, optionally, buying refreshments.
The official guidance taken from Coronavirus (COVID-19): safer travel guidance for passengers

Car sharing
It is difficult to socially distance during car journeys. You should avoid sharing a car with someone from outside your household or your support bubble unless you can practise social distancing. You can reduce the risk of transmission by:
opening windows for ventilation
travelling side by side or behind other people, rather than facing them, where seating arrangements allow
facing away from each other
considering seating arrangements to maximise distance between people in the vehicle
cleaning your car between journeys using standard cleaning products – make sure you clean door handles and other areas that people may touch
asking the driver and passengers to wear a face covering
( end of October 30th update)
The Races
There are trophy races for juniors and seniors.
The racing will be at Winterfold, first-class forest orienteering terrain on the Greensand Ridge in Surrey.
Previous map (Routegadget OK Nuts 2015)
We are fortunate to have a great base for the competition at the Bentley Copse Scout Campsite. Parking, facilities, start and finish are close, but not too close, together.
It is an excellent opportunity to enjoy individual start, classic distance age-class competition should you wish, with the British Orienteering age classes each mapped to a colour-coded course for the OK Nuts, and this year also for the South Central Association (SCOA) Long Distance Champs and the South-East Association (SEOA) Long Champs.
The OK Nuts
The OK Nuts is SLOW's annual premier forest orienteering race. It is named after an orienteering club – OK Nutfielders – from the early days of the sport in England. The event was first held in 1977 at the Devil's Punch Bowl, and has been held nearly every year since.
The OK Nuts Trophy is named for Mike Wells-Cole, a British Champion and a member of Nutfielders OK, who died in 1976. The trophy is awarded to the winner of the senior men's course.
The Heather Monro Trophy is awarded to the winner of the senior women's course. Heather grew up orienteering with SLOW and had an illustrious international orienteering career topped by a bronze medal at the 2005 World Championships. (Also in 2005, Winterfold hosted a race in the Orienteering World Cup – see link to some photos in Terrain below.)
History of the OK Nuts, and list of past winners
COVID
The event is prepared and will run in accordance with government approved guidelines published by British Orienteering. If we all observe the protocols, which should not be difficult, the sport is almost perfect for maintaining social distancing and having no contact with shared equipment.
British Orienteering – COVID Safe Orienteering
A key part of the protocols is the need for everyone to read and keep to a code of conduct. Please be seen to do this, before during and after racing.
The COVID-19 Code of Conduct
Please act as an ambassador for our sport at all times and consider how your actions may appear in the eyes of landowners and members of the public.
Please maintain social distancing at all times, keeping 2m from other runners, volunteers and members of the public.
Please use your own hand sanitizer at intervals, and that provided by the event when visiting toilets, at the start and at download.
The protocols mean there will no on-the-day prize-giving.
Possible Cancellation
We recognise the event may need to be cancelled because of COVID developments, even possibly at the last minute. Because of this we are not opening entries until Sunday 1st November.

Risks
We will carry out a comprehensive risk assessment and take steps to mitigate risk. Nevertheless this is an outdoor sport in forest terrain in what may be wintery conditions. Competitors take part at their own risk.
Newcomers
An event such as this that preserves social distancing is not suitable for complete beginners in the sport.
If you are new to the sport and are not yet a member of British Orienteering, may we suggest our permanent courses? For example you could try a delightful Orange course on the heathland of Esher Common?
You may also like to watch a new series of films about starting in the sport. Get Out & Go YouTube playlist.
Terrain
Winterfold is lovely on a nice day and great for challenging orienteering whatever the weather. It was used for the British Championships in 2013 and the OK Nuts in December 2015.
It was the venue for an orienteering World Cup race in 2005. Some photos. Our planner this year planned the World Cup Sprint Race in Battersea Park the day after. It was one of the earliest big races in that format. Here Andy is talking to the media.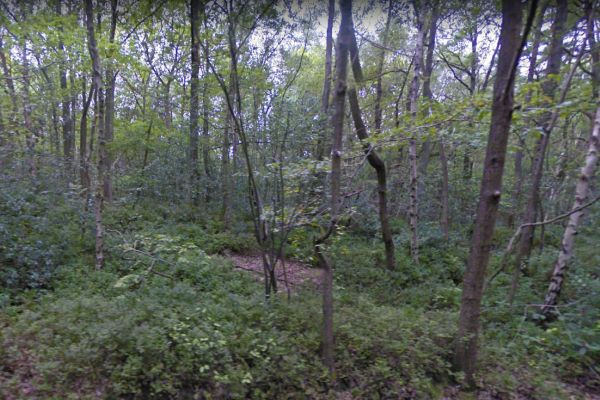 In 2015 we said:
Winterfold is a mix of gentle and steep slopes, with many reentrants, gullies and paths. There are also sections of detailed broken ground and runnability is generally good. It offers a complete physical and technical challenge requiring both route choice and fine navigation skills.
Location
We are delighted that we will be hosted at Bentley Copse.
Dogs are not permitted.
We have the use of permanent toilets (please wear a mask inside the blocks.)
Tom & Julie (British & Continental Catering) are planning to come for the sale of their popular hot food and drinks.
Location
Winterfold
Address
Hound House Road, Guildford, GU5 9JH
Latitude/longitude
51.187, -0.463
OS grid reference
TQ075442
Maps
Google Maps, OpenStreetMap
Please note that access roads in the area are narrow, often single track and can be busy, including with cyclists. Because of this we will ask cars to make their approach on Hound House Road from the north and to leave to the south.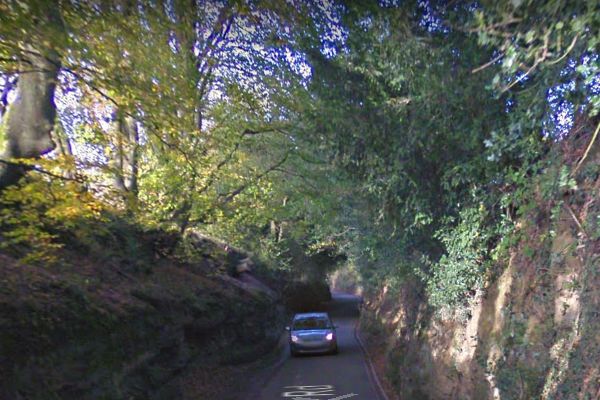 Unfortunately it is very difficult if not impossible to get close to the event using public transport.
Courses
You are welcome to choose any course, subject to a start time being available.
At entry time please choose an age class (not a colour), unless you wish to "run down" (that is a shorter course than your age class competition.) Please see the "Entries" section.
There is a full set of twelve colour-coded courses from black to white, plus a special "M16 Blue" .
The Black course is planned with the aim that a top runner would take approxinately 67 minutes. It will be about 12km, with significant climb.
M/W16 and under – please do not choose to "run up" at M/W18 or above. This is because the longer courses require unmarshalled road crossings.
M80, M85 – The OK Nuts and SEOA Champs are run on the VSG (Very Short Green) course; the SCOA champs are normally run on the SG (Short Green) course (which is the National Guidelines course for these age groups) but this year are on the VSG course for consistency with the other competitions.
The course/age class relationships are as follows.
Entries
British Orienteering members only.
Enter via SiEntries.

Results will be presented in the first case by age class, for the OK Nuts, and also the SCOA and SEOA Long Championships.

If you will run in the age class competition please choose the age class you want, not the colour, and allow the system to pick the course.
You can choose to run your own class or to run up (a longer course, or maybe the same course but in a "higher" class) e.g. W50 can choose W21, W35, W40, W45 or W50. (Or indeed the men's classes for those age groups.)
Only if you do not want to take part in the main age class racing, choose a colour + "Other" e.g. Orange – Other. Entering that way means you will not count in the OK Nuts or Association Champs.
The races will use contactless SI Timing.
The entry system will offer a choice of 15 minute start blocks within the three hour start window 10am – 1pm. Courses will close at 14:45. Please bear this in mind, especially if entering the black and brown courses which have the longest expected winning times.
The race could sell out
There is a limit on the number of runners we can manage. We will be able to accommodate the sort of numbers we have seen at the busier OK Nuts in recent years, but not more.
So it is possible, if perhaps unlikely, that some (or most, or all) courses will sell out. We will operate a waiting list if the race proves more popular than usual, so that a place booked by someone who cannot come at the last minute can be offered to someone who could not otherwise run.
To have a full choice of start time and to secure your entry it may be best to enter early.
Standard entry closes Midnight Sunday 15th November, or when courses are full. Late entries will be possible in the final week to 6pm Friday 20th, where we have availability.
There is no Entry on the Day.
We hope to allocate and publish individual start times and publish final details on Tuesday 17th.
Fees
Seniors
Juniors
Standard (British Orienteering member with their own timing card)
£14
£5
Late, if available
£16
£5
SportIdent Timer hire (SIAC)
(fee for loss £63)
£2
Personal Data
The personal data you give will be used by SLOW and their agents only for the purpose of processing and publishing the event entries and results, for conducting safety checks and to validate insurance cover.
Entries and results will be processed by computer, your entry will be taken as agreement to this. The competition is run under the rules and guidelines of, and sanctioned by, British Orienteering.
Results will be published on the SLOW website, and then on the British Orienteering website, after the race.
The club's data privacy policy is available on our website.
Refunds
We will make a full refund to anyone who needs to withdraw their entry because they or a member of their household has COVID-19 symptoms, or because they have been asked to isolate by NHS Test and Trace.

Officials
| | |
| --- | --- |
| Organiser | Sarah Brown and Paul Street |
| Planner | Andy Jones |
| Entries & Timing | Gordon Parker |
| Controller | Susan Crickmore (Southdowns) |
Contact: Paul Street –