SLOW teams compete in the Jukola and Venla relays in Finland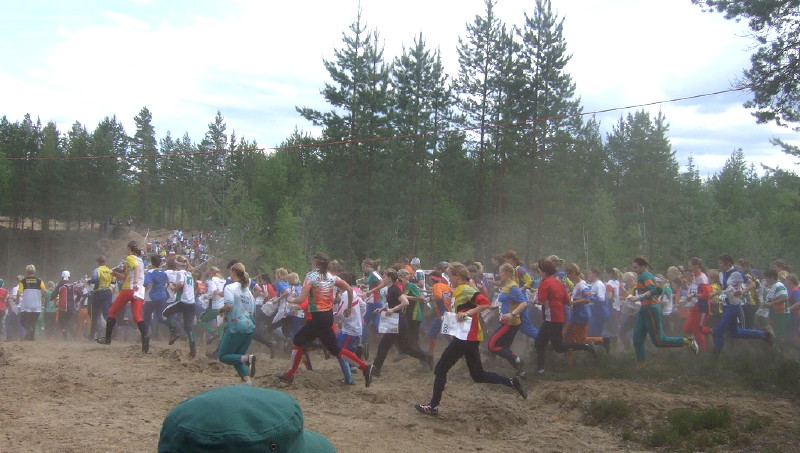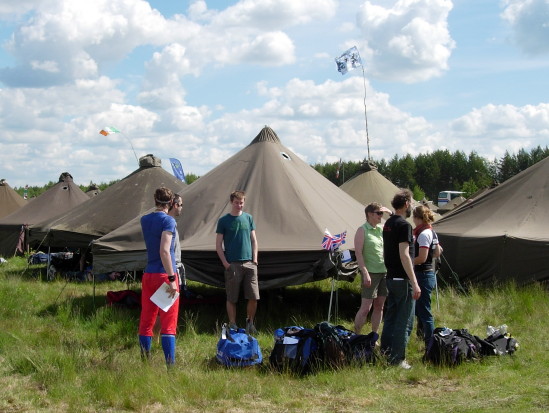 The Jukola event consists of two relays. The Venla relay for women takes place on Saturday afternoon with 4 legs. The Jukola relay starts at 11pm on Saturday night and has 7 legs. It is the Finnish equivalent of the UK Harvester relays but on another scale in terms of the number of competitors.
This year's event took place near Tampere, about 2 hours drive north or Helsinki. Some of the team flew out a few days earlier to compete in the Forssa Games which is World Ranking Middle distance race and was a good opportunity to get some practice in the tricky terrain.
The team came together on Saturday morning via various routes from the UK including by ferry. The race arena was located at an aviation and motor sports centre which included a runway, alongside which, were about 300 army tents for teams to sleep.
A few people headed off for a quick run on the training map before the start of the Venla relay. The Venla Relay had 970 teams starting in a mass start. The first 200 teams are seeded and take the first few rows on the grid. A network of wires elevates each competitor's rolled map above their head.
The event was televised on a Finnish sports TV channel and was displayed on a big screen in the race arena. The top teams carry GPS devices and their positions and routes could be displayed on a map on the big screen. On the first leg in the mass start for SLOW was Diane Leakey. The teams set off creating a cloud of dust and their progress is tracked through the forest.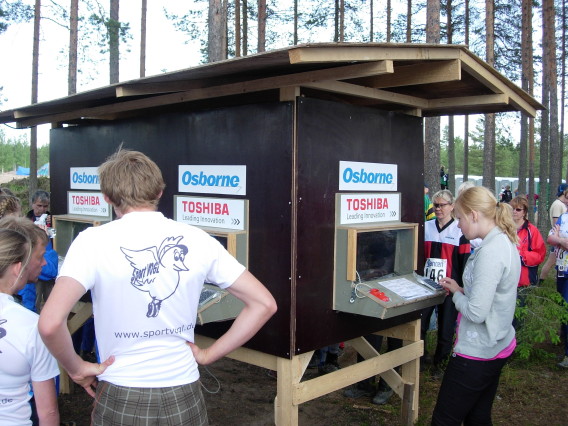 Each leg had about 4 radio controls and it was possible to views each team runner's progress on computer terminals in the assembly area.
The SLOW Venla team had good runs ending in 501st place with a particularly strong last leg from Sarah-Jane Gaffney gaining 122 places!
In the Jukola relay were 1453 teams. Setting off the SLOW team at 11pm was Brooner. Although the sun had set it was not completely dark but head torches were required for the first few legs. From a position in the mass start of 1025, the team made steady progress through the field ending up in 683rd place. Particularly good runs were had by Patrick Saile, Seb Woof and Alan Leakey.
Team Results
| | | | | | |
| --- | --- | --- | --- | --- | --- |
| Women's Team | Length (km) | Leg Time | Leg Position | Relay Time | Relay Position |
| 1 Diane Leakey | 7.1 | 1:19:55 | 512 | 1:19:55 | 512 |
| 2 Vicky Whaley | 7.2 | 1:39:09 | 661 | 2:59:04 | 609 |
| 3 Chris Robinson | 5.6 | 1:13:51 | 638 | 4:12:55 | 623 |
| 4 Sarah-Jane Gaffney | 8.2 | 1:21:55 | 262 | 5:34:51 | 501 |
| | | | | | |
| --- | --- | --- | --- | --- | --- |
| Men's Team | Length (km) | Leg Time | Leg Position | Relay Time | Relay Position |
| 1 Andrew Brown | 11.5 | 2:19:03 | 1165 | 2:19:03 | 1165 |
| 2 Simon Evans | 12.3 | 2:29:10 | 976 | 4:48:13 | 1076 |
| 3 Patrick Saile | 13.2 | 2:00:02 | 638 | 4:12:55 | 832 |
| 4 David Roach | 7.9 | 1:43:10 | 1048 | 8:31:26 | 870 |
| 5 Alan Leakey | 8.0 | 1:19:11 | 488 | 9:50:37 | 759 |
| 6 Andy Robinson | 9.9 | 1:54:09 | 803 | 11:44:47 | 756 |
| 7 Seb Woof | 13.8 | 2:14:30 | 613 | 13:59:18 | 683 |