Orienteering with the Queen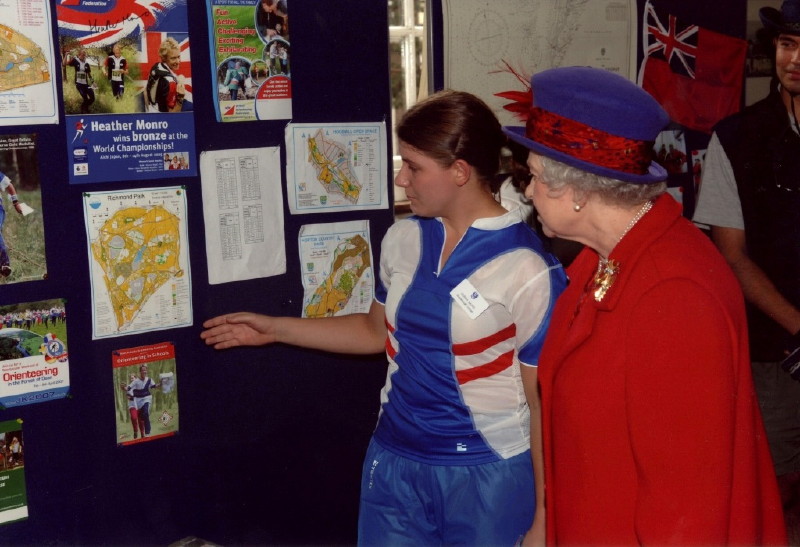 "So you're an orienteer. Isn't that quite hard work?" So spoke the Queen as I was presented to her dressed in full O-kit, including gaiters, compass and dibber.
I live at Goodenough College, a residential hall for postgrads based near Russell Square. Last November, it was our 75th anniversary, and the Queen, who is our patron and a fairly frequent visitor, was coming as part of the celebrations to unveil a sundial and be introduced to members. My partner Carl and I had started a small orienteering club at the College a few months before, and I had been selected to be part of the 'sports section' which would be introduced to the Queen, along with Tae Kwon Do, sailing, horse riding and football, sports that were considered to be able to provide visually stimulating displays.
Hence I found myself writing to various members of SLOW with the rather bizarre question: "I'm meeting the Queen, does anyone have any O gear I could borrow?" The response was swift and generous. I was soon in possession of many maps, including those of Royal Parks, posters advertising orienteering and not only a control stake and flag, but also a SI box and dibber – all set up to flash impressively. (In the event I did not use this function, since I was warned that anything done quickly or unexpectedly, such as flashes and beeps, might cause me to become quickly covered with burly bodyguards!) I am happy to say that as a result our display was by far the most interesting to look at, and in fact I had many College members come up to me to inquire what all the bits and pieces were for.
Eventually, having been well schooled in important points such as which foot to put behind when you curtsey and that Ma'am rhymes with jam, all was ready. A slightly apprehensive silence fell as we were told she had arrived. We waited for her to walk through the lines of spectators in the courtyard, and then suddenly she was at the door, accompanied by bodyguards, pressmen and her lady in waiting. She was introduced to each of us in turn, and had a quick word and a smile for each. The families with young children were first: one little girl looked at her quizzically, then turned to her mother and asked: "Where's the Queen?" An embarrassed whisper: "This is the Queen". And in reply: "Then where's her crown?"
Eventually and inevitably it was my turn. The experience would have been slightly surreal anyway, but was made more so by the fact that I was not wearing exactly what one expects to wear on this occasion! The moment was a very special one, though quickly over. While I am not sure I managed to convince her to take up orienteering herself, I hope I have given her a positive impression of our sport, at least more positive than she might have felt had she remembered the scaring of the horse in Windsor Great Park which led to the disuse of that map.
Thank you so much to everyone in the club who pulled through and helped me by providing equipment for the display. Hopefully it won't be so long before she meets another orienteer!