JK 2009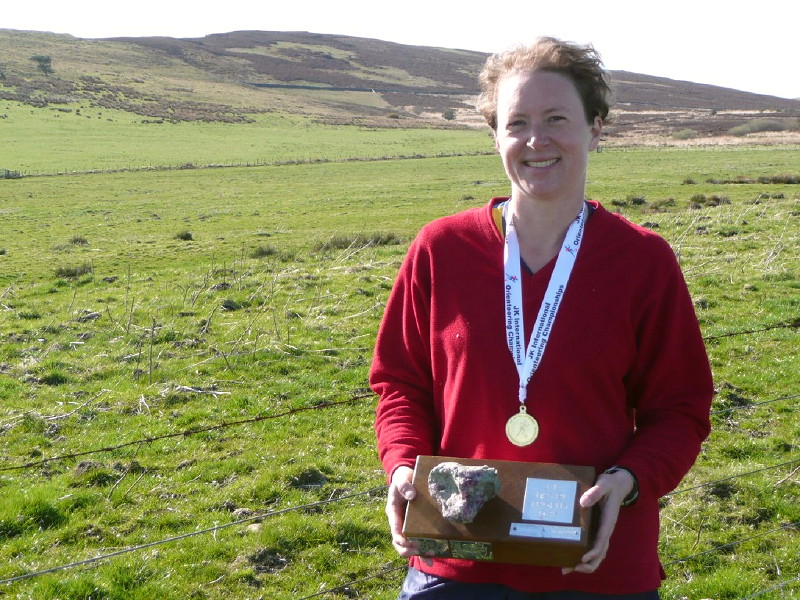 The annual JK festival of orienteering was held over the Easter weekend, this year taking place in the north-east of England. As usual SLOW had a large number of runners competing in the event.
Some highlights from the individual days
Newcastle sprint: Ralph Street (2nd M20), Paul Street (8th M55), Don McKerrow (10th M55), Jim Mallinson (7th M60), Chris Robinson (3rd W50), Sarah Brown (2nd W55).
Main individual races: Ralph Street (2nd M20E – 1st day 2), Anja Stratford (1st W35L – pictured below), Anne May (1st W60S).
Thomas Jones (5th M14B), Gustav Lindeborg (7th M16A day 1), Robert Jones (5th M18L day 2), Dan Findlay-Robinson (10th M21S), Jon O'Donnell (6th M35S), Andrea Rebora (10th M40S), Andy Jones (7th M50S), David May (4th M60S), Malin Lindeborg (6th W20L), Kathy Haynes (8th W50L day 1), Sarah Brown (4th W55L – 1st day 2).
Our best runners on the 21 elite classes were Mathias Mahr (47th) & Abi Weeds (13th).
JK Relays
We had 13 teams competing at the relays at Dipton, near Hexham, on Easter Monday. Yet again the weather was fantastic. The courses were relatively short and the forest was a lot faster than for the individual days, resulting in some quite short times.
In Men's Premier, we came 17th, 25 minutes down on Edinburgh University. Ralph Street was 3rd on the 1st leg, & Matthias Mahr, Ollie O'Brien & James McMillan performed solidly. Our Women's Premier team came 13th, 31 minutes down on South Yorkshire – the team was Sarah-Jane Gaffney, Chris Robinson & Anja Stratford.
Our M165 team (Andy, Jim, Peter Haynes) were 15th, 10 minutes down on Thames Valley & 5 minutes off the medals. The W165 team (Kathy, Anne, Sarah) came 4th, 6 minutes down on Borderliners – Sarah had the 3rd best time in the class.
Our two junior teams on M48 were neck-and-neck the whole way round with Gustav Lindeborg, Thomas & Robert Jones (10th) beating Greg Street, Matthew Jones & Charles McMillan (11th n/c) by 16 seconds!
Finally we had a Mixed Ad Hoc team with Tamir Alon, Michael May (running the orange in flats in 13 minutes), & Andy Jones. They all ran well & came away with 2nd place (& some glasses), behind a New Zealand team.
See www.jk2009.org.uk for full results.
Next team events
Next up are the South-East Relays in Guildford on 7th June, the North Downs Way Relay on 20th June, & the Harvester Relays in South Wales on 21st June.