JK 2012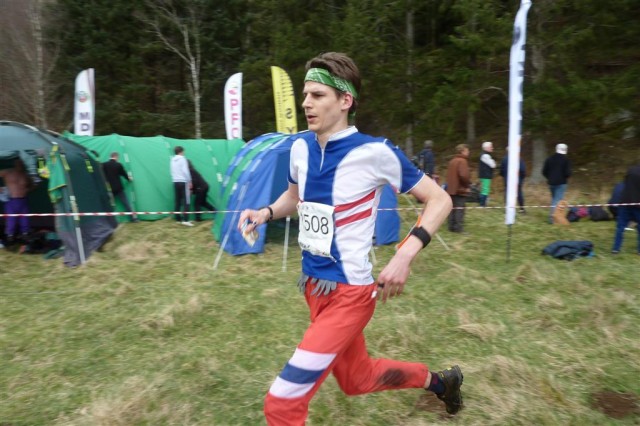 The UK's premier orienteering event took place over the Easter weekend in Tayside, Scotland. A good number of SLOW members made the trip up north and experienced a great weekend of challenging and beautiful orienteering.
The event began with the sprint race around the streets of Livingston. The racing was fast and furious with winning times of around 14 mins. Top results came from Matthias Mahr (3rd, M35), Don McKerrow (8th, M60) and David May (6th, M65).
The main individual event saw competitors taking on two very tough forests with the times from each day being added together. The first day was run on Dunalastair, with dense forest to begin with, opening out onto a faster open section towards the end. The second day saw a return to a classic Scottish forest, Craig a Barns, with steep slopes, tough terrain and technical orienteering throughout. Both areas were challenging in every way possible, but equally enjoyable to run through. Have a look at the routegadget link for maps of all the areas: www.jk.routegadget.co.uk/
For the less experienced orienteers, it was a case of learning fast, battling on and trying to complete the course. There are too many names to mention but a big well done to all those who made it round. No mean achievement in Scottish forests like that! At the top end, there were some fine performances from SLOW members. Matthias Mahr (4th, M35L), David May (7th, M65L), Egil Ronaess (7th, M70L), Anja Stratford (4th, W40L), Sarah Brown (3rd, W60L).
The final day of the JK weekend was the relays. The Women's Trophy team of Abi Weeds, Sarah Jane-Gaffney and Helen Gardner ran well to take an excellent 9th place. The Women's Short team of Inga Ausekle, Samantha Martin and Raffaella Marin also ran well to finish in 12th place. The highest place team of the day was the Veteran Women's team of Kathy Haynes, Chris Robinson and Sarah Brown who finished in a superb 6th place.
SLOW team spirit was in full force over the weekend, with the club tent up and many runners hanging around after their runs to compare maps and cheer each other on. Pete and Vince had organised some great group accommodation and Vince's crew did a great job of hosting a tea party on the Sunday afternoon, complete with chocolate brownies, tea and scones and even some snooker thrown in. I don't think SLOW will be forming a snooker team anytime soon. Not unless it consists of Paul Couldridge on his own. Turns out he's a demon snooker player! All in all, it was a fantastic weekend and it was great to see so many SLOW members enjoying it.
Report by Nick Taylor. Top and bottom photos by Peter Huzan, middle photo by Wendles56 on Flickr. Above: Matthias Mahr. Middle: Sarah Brown. Below: Paul Couldridge handing over to Tom Cochrane on the relay.