London City Race 2023 – Results
Results
23rd September – Results have been finalised and uploaded to BOF. Ranking lists will update on Wednesday.
Routegadget – draw your route!
Control #158
As some of you will be aware, control 158 was stolen during the event. This happened sometime between the Controller checking it (~8:30am) and the first competitors reaching it (~10:40am). We managed to replace it within about 10 minutes of being notified that it was missing, but by then 12 competitors had been affected. Fortunately, it was only used by competitors on courses 1, 2 and 3.
So, then we had a decision to make.
Option A. We could remove the legs before and after the control for everyone.
Option B. We could bear in mind that the rules strongly discourage that approach and, in the end, less than 5% of competitors on those courses were affected in any way. So leave control 158 in the results and credit the 12 affected competitors with visiting 158.
So, then we analysed the impact on the results between options A and B.
4 no change in position
7 a change of 1 or 2 places up or down
1 a change of 4 places
In no case was a position on the podium affected
So, then we looked at the impact on EuroTour scoring, bearing in mind it was only courses 1, 2 and 3 that were affected. We found that Mark Burley (MDOC), currently 1st in the EuroTour rankings and Kay Hawke (PFO), currently 2nd in the rankings were impacted by the missing control, but neither by enough to possibly affect their finals series result (it helped the analysis that we are at the tail end of the EuroTour series for this year).
So after all that we decided to take Option B and leave control 158 in the results, along with the legs before and after it. We have also credited all 12 impacted competitors with visiting it. This is the position now shown in the Provisional results, which will be finalised in the next couple of days unless anyone raises a major objections.
BTW. The original control unit was eventually found in another alley about 60m away from its original location – with the metal securing cable neatly cut through!
Thank you once again to everyone for coming along and making it a memorable event. We hope that the vandalization of control 158 didn't spoil the enjoyment of the race for the 12 competitors affected.
Results from the weekend
Friday evening Race (DFOK) – Southwark Park
British Sprint Relays (LOK) – Brunel University
Planner's Comments
Some general thoughts on planning in Rotherhithe:
We have an informal rota of alternating the London City Race between the City of London itself and an adjacent residential area. So, this year was the turn of Rotherhithe, an excellent area with minimal traffic due to its location on a bend of the Thames.
Since the existing Rotherhithe map wasn't that large an area, I wanted to extend the map southwards. Although only the three longest courses used this it avoided a lot of zig zagging on their courses
Changing the scale from 1:5,000 to 1:4,000. This is a long-term trend for Sprint and Urban races in complex areas – such as Rotherhithe and important for clarity. We considered this after last year's event. It also reflects changes in the rules, The change inevitably led to double sided maps for those courses using the newly mapped area. But it also meant some constraints on the area that would fit on SRA3 paper (A3+ if you like) and hence to the middle length courses.
When planning urban events I aim to focus on two main factors; route choice and variety. So, I tried to include as much route choice as possible all the way through the courses (TD2 excepted of course) plus a variety of leg lengths. The accumulation of challenges seemed to affect lots of people with many making significant mistakes in the last part of their courses.
As part of this approach, I tried to get a really long leg in as many courses as possible. On the other hand, I had to recognise that Hyper Vets (for example) may run slower, but they still want a technical challenge, so I gave them lots of short legs with route choice.
Creating full length courses for the U16 classes that meet the safety requirements is usually the hardest challenge in Urban events, so it was a delight to be able to plan full length and full technicality courses for this age class.
It is always good to add in some 'Theatre'. Commencing with the Start on the Bascule Bridge. Running around the remnants of the original docks plus climbing Stave Hill (mound) for most of you
Fitting course into the available paper size meant that I ended up with 3 different map shapes, double sided maps for some and lots of adjustments. So, a big thank you to Jack Benham at BML for his patience whilst we changed things yet again to get everything just right for you.
On a negative note, we had a complaint from a local in a wheelchair about being yelled at by runners. I suspect that this was just faster competitors shouting to warn of their approach, but we should always bear in mind that a yelled warning can seem aggressive, particularly to a woman in a wheelchair, who will likely feel more vulnerable anyway.
See you next year in the City of London
Alan Leakey
Organiser's Comments
We were pleased to return to the Rotherhithe area this year and welcomed over 950 competitors from 23 different countries.
We found a superb venue for the assembly at the Decathlon store right by Canada Water. We are extremely grateful to the manager and staff at Decathlon for the help they gave us leading up to the event and for their support and helpfulness on the day. They went out of their way to create the space for us on the first floor of the building including screening off separate changing areas and building the podium for prize-giving.
The unseasonably warm weather was a bonus that made the day successful and enjoyable for competitors and officials.
An innovation this year was the provision of an accessible course for wheelchair users. This course was enjoyed by 2 competitors who gave very useful feedback which we can incorporate into course planning for next year. Hopefully, we can spread the word to encourage more wheelchair users to enter and try out the sport.
The event went very smoothly thanks to a large turnout of volunteers from SLOW, so a big than you to all of them.
Finally, I have a few small items of lost property, so please email me if you think you left something behind at Decathlon.
I look forward to seeing you all again at London City Race 2024.
Nigel Saker
On-the-day Organiser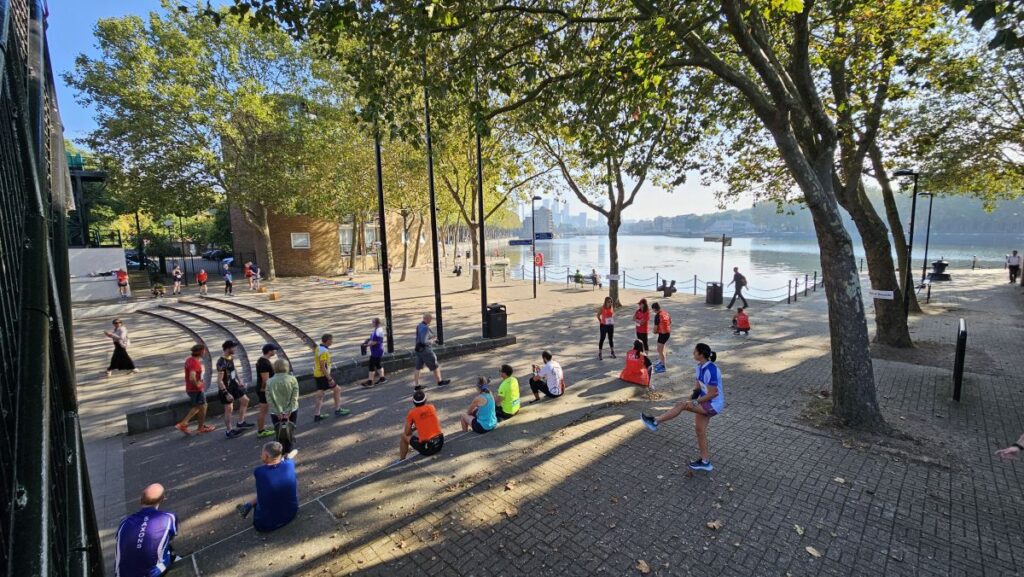 Women's Podium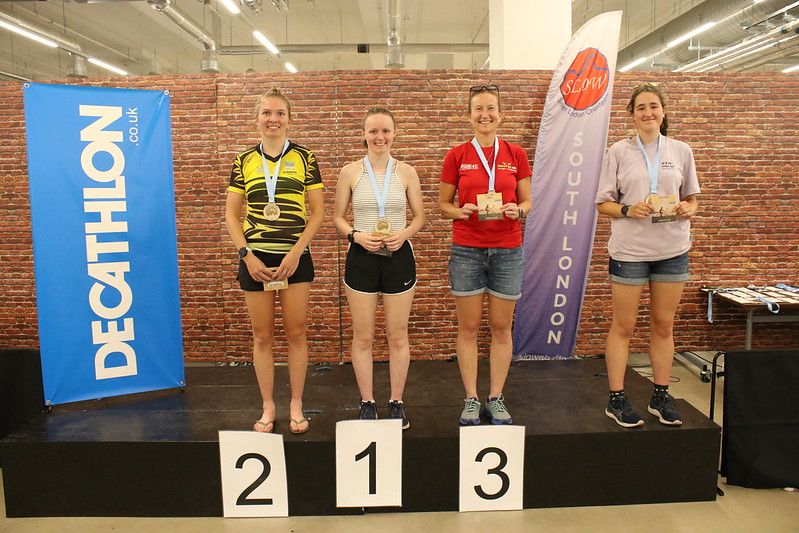 Men's Podium