North Downs Way 50-Miler: The View from the Back
Well done to Ed Catmur and Dan Findlay-Robinson who both completed the Centurion North Downs Way 50-Miler yesterday. The following report is from Dan and is reposted from his Attackpoint log. Photo of Ed at the finish by Centurion Running.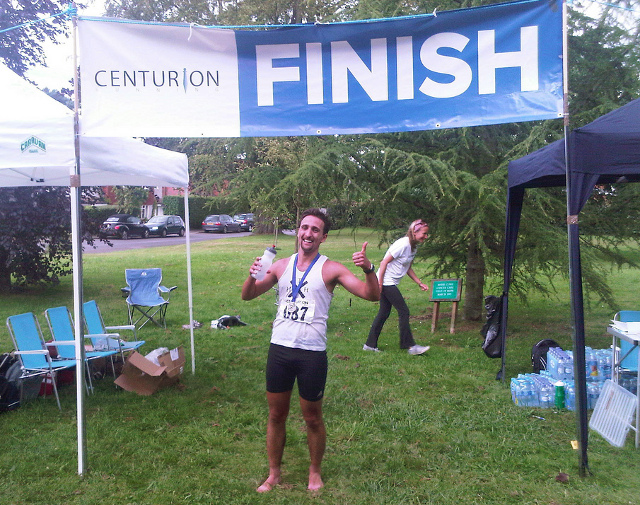 So 5am dawns and it's a drizzly start for the day as Ed and I mooched from the hotel to Polycarp school, munching down instant porridge and thinking this weather's damn perfect for a nice cool run.
The registration room is a hive of activity full of emaciated runners and their doting families, come to watch them do 'something stupid' as I heard one woman announce. Then it was off to the start.
The start was a low key affair, a centurion start banner up on the banking and casual groups of runners loitering with intent. Also some mad woman in a bright pink tracksuit being loud up at the front – far too early in the morning for this. Couldn't decide if I'd gone off too fast but it felt about 10min miling which is what I thought would be a sustainable pace for the start.Was tucked in behind a group of the leaders and was just concentrating on zoning out and letting the time pass,when I was confronted by Ed and a mass of the leaders coming back towards me…. we'd missed a turning, en route back to the route I caught my foot on a tree route and went down hard – kit everywhere and it turns out I lost my spare waterbottle here… by the time I got myself sorted everyone had gone and upon rejoining the route I was right at the back, so had the fun task of passing everyone for the rest of the course.
It was difficult at this point as I still felt good but was conscious there was still a long way to go and I didn't want to blow it so was concentrating on staying easy. Got to checkpoint 1 ok and enjoyed the coke on offer and some jelly babies and cracked on.
Reached checkpoint 2(13.1 miles) in 2hrs and 8 min which meant an average pace of 9:46, so about 30min slower than for a half – bout right pacing i think. This was where I'd finished my leg of the NDW relay so knew the route – also amused myself going past The good Intent where we have the post race beers, bit early at eight in the morning for a beer, the next few hours went quickly with hitting Box hill checkpoint at 4hrs 7 min and considering by now I was using even minor inclines as an excuse to walk (conserving energy valid technique in Ultras) the slog up to the top of box hill was a grind, best thing being that the sun came out – 23.4 miles in and still feeling fairly fresh.
Lovely views on the next leg – and called back 3 guys going off route although by now I was usually running all on my lonesome.
The 31mile checkpoint was a big boost cause it meant I'd dropped the marathon and considering the furthest I'd ever run was 19 miles previously felt damn good. Went about 200m off route on this point and brought a group of about 5 souls back on course who also had made the same mistake in front of me, However we met a guy who'd set up his own impromptu aid station down by the bridge over the M25 – well needed, as after lsoing my spare waterbottle was running very low on water between stations. Hooked in with an australian woman at this point who was trying to beat her sister in law and the pair of us took turns in trying to drop the other, bumped into a guy who'd got massively lost and ended up crossing the M25 at ground level!!!!!!? who tried to convince us we'd missed a checkpoint, we were certain we hadn't but the doubt was in so it became a mental challenge to not walk when it got tough over the next few miles as if we had missed it we were disqualified and if we hadn't where the bloody hell was it cause it should be there. Eventually after slogging it up to the highest point on the downs it was there thank god…
I wandered in obviously a bit dazed as the guys on there managed to take my water bottle and refill it without me noticing, they then gave me crap about doing the Baby boys course and that I only had an easy 7 miles left,Isaid thank god, took a wrapand another coke and strolled off down the route mucnhing. In the meantinme my australian had done a smooth handove rwith her husband, swapping camel backs on the move getting a munch on and continuing – slick (turnsout she was the leading lady)
Felt good only 7 miles left how hard could that be? Turns out reasonably hard, found it hard to get going again after the aid station, but eventually picked it up again, got passed by some guy who was flying and took me just as we passed some guy who told us 3 miles left… legs pretty much fell off at this point but a text from Rhesus told me to suck it up and get on with it… so thought f*** it, how hard can 3 miles be and pushed it…. or thought I pushed it, felt hard work anyway and took 5 people in this section including the guy who passed me his quads had gone, and the australian let me past with 3/4 of a mile to go, saw the leading 3 on the 100 go past all looking far too good. 'Sprint' finish nearly saw me flattened at the road crossing but came in respectably.
Felt good – woman at the finish did me a brew – awesome. Then saw Ed looking fresh ahving just finished his pint and coming in 2nd about an hour and a half ahead. So settled down to wait for a bus with a Guiness courtesy of Mr Catmur.
So I'm wondering if that technically classes us as Ultramarathoners? If it does I can say that apart from losing focus when I thought i'd missed a checkpoint, was awesome time flew and the views were awesome, being able to break it down into legs between aid stations rather than thinking about the whole thing.Its more a mental challenge at this level than a physical one and I could handle that…think its a different ballgame with the 100…. now wheres that entry form for the Thames Path 100?
Also a big thank you to my text 'cheerleaders' who kept me going and feeling loved on the hard lonely road.