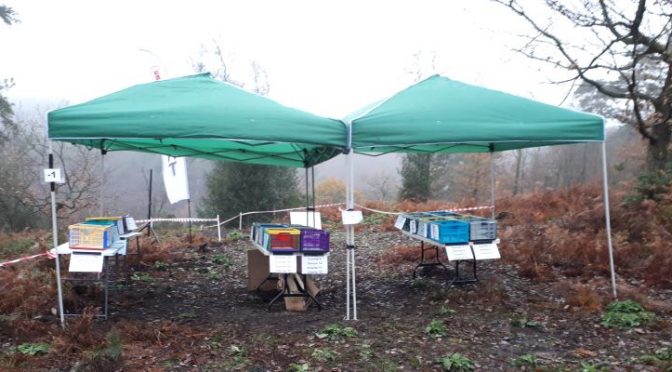 OK Nuts 2018 Winners
(picture: maps await the runners at the start)
The 2018 OK Nuts Trophy Races took place on November 25th, in conjunction with the Southern Championships, at Hindhead Common & The Devil's Punch Bowl.
The event was a Southern Navigators / South London Orienteers collaboration.
Courses were tough, at the upper end of  the length range and with more than usual climb, testing both physical endurance and navigation and route choice in the terrain.
(Pictures are from this year's British Championships races at Balmoral, credit: On The Red Line.)
The OK Nuts Trophy was won by Ben Mitchell of Swansea Bay Orienteering Club who ran  the M21E course in 108 minutes. The Heather Monro Trophy was won by Megan Carter-Davies of Mid-Wales Orienteering Club who ran the W21E course in 86 minutes. There were 700 runners in all.
The junior trophy was awarded to Lyra Medlock of Wessex Orienteers.
Southern Champions
On the longest course for each age group the first runner from the three southern associations becomes Southern Champion 2018. In the open classes the champions are William White and Lucy Butt, both of the Salisbury Club SARUM.
From SLOW, Matthias Mahr (M40), Lyudmila Gotseva (W45),  and Olin Davies (M16) are Southern Champions for 2018.
Results
For full results, officials comments, please see the Southern Navigators' Southern Championships Results Page.
The  Event Routegadget, includes maps and courses, with the uploaded routes of over 100 runners.