Results from the 2016 OK Nuts Trophy
Results for the 2016 OK Nuts Trophy, which took place on 25 September, are now available.
OK Nuts Trophy 2016 Prize Winners
M21
Paul Couldridge
OK Nuts Trophy
South London
M35
Richard Collyer
Guildford
M40
Ian Marsden
Hertfordshire
M45
Kevin Fielding
Hertfordshire
M50
Nigel Bunn
Thames Valley
M55
Chris Hooker
Southdowns
M60
Andrew Evans
Dartford
M65
Phill Smithard
Kingdom of Fife
M70
Geoff Wright
Guildford
M75
Roger Maher
Southdowns
M80
Patrick Maher
Southdowns
M20
Nicholas Jarvis
Southdowns
M18
–
M16
–
M14
Nathan Judd
Margaret Loveless Trophy
Mole Valley
M12
Maxime Pesenti
Dartford
M10
Thomas Rollins
Southern Navigators
W21
Kajsa Johansson
Heather Monro Trophy
Jönköpings OK
W35
Melanie Slade
Southern Navigators
W40
Helen Marsden
Hertfordshire
W45
Julia Jarvis
Southdowns
W50
Dorte Torpe Hansen
South London
W55
Jill Blount
Southdowns
W60
Christine Kiddier
Guildford
W65
Teresa Turner
South London
W70
Bridget Hooper
Southdowns
W75
Susan Parker
Southdowns
W80
–
W20
–
W18
–
W16
–
W14
–
W14
Laura Barrett
Southern Navigators
W12
Charlotte Slade
Southern Navigators
Organiser's comments
Congratulations to Paul Couldridge, now officially a legend after winning the prestigious OK Nuts Trophy. A very worthy mention also to Sarah Rollins, only 86 seconds behind Paul, who nearly became the first female winner of that trophy.
Congratulations to Kajsa Johansson (W20), the winner of the Heather Monro Trophy, taking part in her first orienteering race in the UK since arriving from Sweden a short while ago.
The Margaret Loveless Trophy for best junior performance was awarded to Nathan Judd of Mole Valley, for his 2nd place on the Light Green course. The decision was a tough one as there were other notable performances from Maxime Pesenti and Laura Barrett on Orange and Tommy Rollins on Yellow.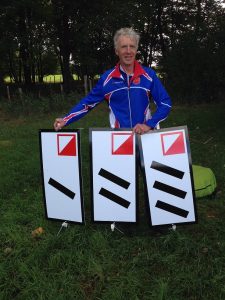 The sun shone and everything seemed to go very well, thanks to a lot of hard work behind the scenes beforehand and on the day. Particular thanks to Charlie Turner, who not only planned the excellent courses but also contributed a huge amount to the organisation and even slept in the finish field overnight to validate the portaloos' insurance! Many people commented on the brilliant count-down signs to the car-park – all Charlie's creation (patent pending?). Thanks too to Peter Chapman (Southdowns), our thorough but relaxed Controller and to Mike Elliot and Mole Valley for the loan of the generator, when the aging SLOW one refused to co-operate.
Many SLOW members volunteered to ensure the smooth running of the event. We worked hard, had good fun and got to know each other a bit better: that's what volunteering is all about. (What a shame that some members missed out). All volunteers, bar one who was injured, had a run.
In no particular order:
Vicky Robb – alarm at 4.30 to catch the bus to our house; registration and anything I asked her to do, including crawling underneath a portaloo to retrieve someone's lost dibber (didn't have that on the Risk Assessment)
Teresa Turner – for putting up with Glover's Wood having taken over her life for the past few months
Andy Robinson – chief gofer and nagger
Charlotte Turner – Assistant Planner
Lydia Farzin-nia – Assistant Planner's assistant
Gordon Parker – SI chief and results provider and driver of an extremely full car to return ALL the equipment to the SLOW store
Alan Leakey, Matthew Schepisi, Peter Huzan – SI team
Nigel Saker – Entries Sec and Registration and Welcomer in Chief
Heather Walton, Fiona Tam, Eoin O'Callaghan – Registration team
Andy Jones, Paul Street and Chrissie Glew – Car Park team
Raffaella Marin, Matteo Rebora, Andrea Rebora, Olin Davies, Keith Davies, Sarah Brown – String Course team
Paul Couldridge, Sue Carter, Hanna Tuomisto, Don McKerrow, Peter Huzan, Dmitry Adamski – Start team
Steph Moss, Simon Moss – for erecting flags, bits of marquee and notices
Ed Stott, Cate Slade (a member of Saxons!), Hing Hung, Dmitry Adamski, Peter Huzan, Don McKerrow, Matthew Schepisi – control collecting
Nigel Clemens, Kim Rowe, Neil Mitchell – road sign collection
Gail Parker – control dismantling and generally tidying up
Chris Fry – keeper of the SLOW store who got everything ready for collection
Finally a shout-out to a certain gentleman from SN who gave me the biggest laugh of the week by claiming he had fallen asleep watching Poldark and so had missed the first closing date and could he please pay at the lower rate – and offering his wife to collect in controls.
Many thanks to all competitors too for coming; also to Ultrasport, Tom's Catering and Southern Medical Services for tending to our every need.
Good fun, hard work and the satisfaction of a job well done.
Christine Robinson
Planner's comments
Glovers Wood has such a wide diversity of terrain for its small area and this coupled with its good runnability at this time of year makes it a wonderful orienteering area. Use of a large part of the area is controlled by SSSIs protecting spring/summer flora in the long valley, which runs the length of the map. The whole area is weald clay and from early October onwards the parking field is a no go area – hence the earlier than usual date for the OK Nuts event.
The courses seemed to provide a challenge for everybody and I know the frequent changes of direction, with short course legs, resulted in some people making big errors. The small thickets caused some problems and maybe by the next time we use the area these will be a little larger. The Woodland Trust who owns part of the area will be made aware of the expanding holly and hopefully, with time there will be some thinning to ensure future runnability. I will try to encourage them to leave some isolated bushes for control sites!
A big thank you to Peter for checking everything and spotting some things that needed improvement. As a dad with two young children he was very keen that the White and Yellow courses should be exactly right. I am pleased that Ben and Emma, together with the other entrants completed the White course with no issues.
Charlie Turner
Controller's comments
Q1) Who would have believed that such a diverse and runnable area (especially at the end of the summer) would exist in the relative flatlands of this part of the Wealden clay?
A1) Well SLOW did and this was the second time that they have used Glover's Wood for their prestigious OK Nuts Trophy event. The previous occasion was in 2008, when the event featured middle distance courses.
Q2) Who would have believed that it would be possible to get a good 10km course into an area barely 1km square?
A2) Charlie Turner had the faith to promote the area to his club and push ahead with obtaining (complex) land permissions, preliminary organization, updating the map, and planning courses (assisted by Charlotte).
SLOW had faith in Charlie and rallied round to support Charlie's efforts to stage the 2016 OK Nuts Trophy event on a pocket hankerchief sized area 2km off the end of the Gatwick runway. SLOW's organizational capabilities (overseen by Chris Robinson) were impressive and the result was a very fine event.
The event seemed to grow in stature and presence as the planning and organisation advanced. Though registered at level C, it had almost all of the characteristics of a well organised level B event. The main level B feature not seen (strictly allocated start times) was probably seen as a benefit by many of the participants! Proximity of assembly, car parking, start, finish, string course helped to produce a really user friendly event.
The anticipation of a quality orienteering challenge lived up to expectations. Area size, shape and terrain type meant that very long technical legs were not possible (longest leg was approx. 550m). The longer courses, especially, therefore took on a middle distance type characteristic, but did not suffer because of it.
Course lengths were calculated based on the 2008 middle distance event results. Winning times for this event were generally close to the target times for long distance courses. Though the terrain was overall flat and pretty runnable (even in the "green" parts, the low visibility and frequent demand for accurate fine navigation resulting from the number of controls on the courses led to a relatively slow course speed (e.g. 7min/km for the leading Black course runners). The length of the black was justified by the winning time (70 minutes) – target for this course was 67 minutes for a "top elite". Other course lengths were scaled from the black (in line with the current BO rules) and were close to the required course length ratios. Short Brown was, perhaps, a little short – but only by a few hundred metres and finish times were reasonable.
The low visibility terrain penalized navigational errors. There were a large number of controls, and great care was taken to select sites which didn't fall foul of the 60m (similar feature)/30m (different feature) guideline for the technical courses. On the whole, this was successful and, despite of having 91 controls in the compact area, there were very few mis-punches. Control 165 seemed to cause some people problems (Short Brown and Green), but the general view was that it was a fair control.
Short Green / Green maps – A small, but significant, number of people inadvertently ended up with Short Green course maps instead of their intended Green course. There is an onus on the competitor to check before they run out of the start area, but in this instance (in view of the numbers) there appear to have been contributory factor(s). It is possible that a few rogue maps were mixed into the Green map box at the start (but impossible to confirm after the event), but the main factor seems to have been that Green and Short Green maps were adjacent in the start lanes and not clearly enough identified (I apologize for not having spotted it). The best compromise remedial action that could be taken was to ensure that none of the effected participants were disqualified, but were given a valid finish time on the Short Green – the fairest action in the circumstances.
Bites and stings – a number of competitors (I saw at least three) seemed to suffer from various bites and stings. My opinion is that this is just down to the time of year and the lack of any significant cold weather to knock back the activity of the insect life yet. We are not aware of any particularly prevalent voracious insect pest in Glover's Wood – it's just the last hurrah of the summer insect life before the autumn/winter cold knocks them back. Bad luck to those who were afflicted!
Finally, I'd like to offer my congratulations to the winners of all classes and the main trophies and say a big WELL DONE to the planning team, organization, and all the band of SLOW helpers.
Peter Chapman, SO