Pimlico Street-O and Christmas Social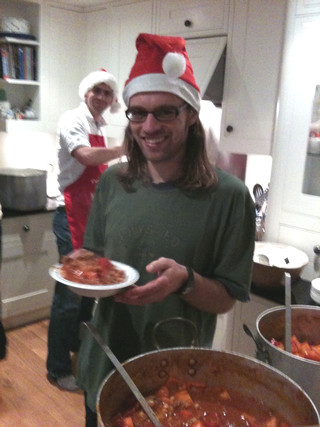 Tim and CJ hosted the Pimlico Street-O on Tuesday and also provided the food and mulled wine for the post-race Christmas social! Results are now up.
All runners were given a Santa hat to run in, with a team badge on it. By swapping the hats with other runners met during the race, competitors could gain an extra thirty points. With around 60 people in Santa hats running around Pimlico, Victoria, Millbank and Belgravia for an hour, our presence on the streets was highly visible!
Lost property:
> – Pair of silver/lime green Asics running shoes
> – Petzl (maroon Tikka XP)
> – Black glove (probably ladies)
Photo by John Owens of SLOW's Dan and EdS in the kitchen, after the race in Pimlico.