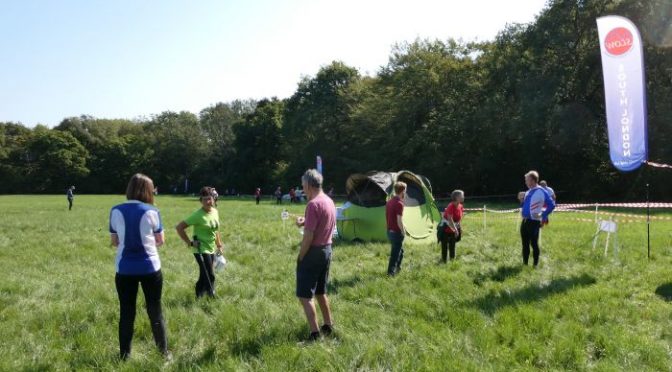 September News
Members can choose to receive a weekly (each Thursday) email from the club. The list is opt-in: see club email mailing list.
Here is the main part of the email for 17th September.
Glover's Wood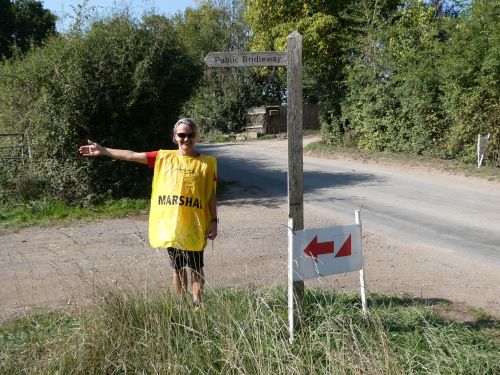 The club held a forest orienteering race on Sunday. It was organised by Charlie Turner, and it went very well. A lot of people were very pleased to have their sport back. Charlie got many positive comments and thanks, both in the field and by email afterwards.
Thanks very much to the officials:
Charlie Turner (organiser),
Gordon Parker (entries and SI),
Richard Catmur (planner) and
Paul Todd of London OK (controller).
There were nearly four hundred runners including 62 from our club. Olin Davies (green), Mike Murray (short green) and Krum Yanev (yellow) were fastest on their courses. (Krum was a mere 4 seconds ahead of his sister Anna Maria.)
There were big winning margins (over 15%) on the brown course for Jonathan Crickmore (SouthDowns) and on the blue for "Talent Squad Tier 1" athlete Euan Trynor (South Yorkshire).
Thankyou to those who volunteered help for the day so that we could all have such a nice run out in the Surrey Weald. As we often say to landowners we are a community amateur sports club, and are dependent on volunteering from within our community for everything we do. That includes providing substantial volunteer help on the day for races to take place, almost all helpers also taking part in the racing. As you will have read beforehand in this weekly email, we were quite tight on help this time. The COVID protocols made a difference – I am not sure we have had "sanitiser" as a role before.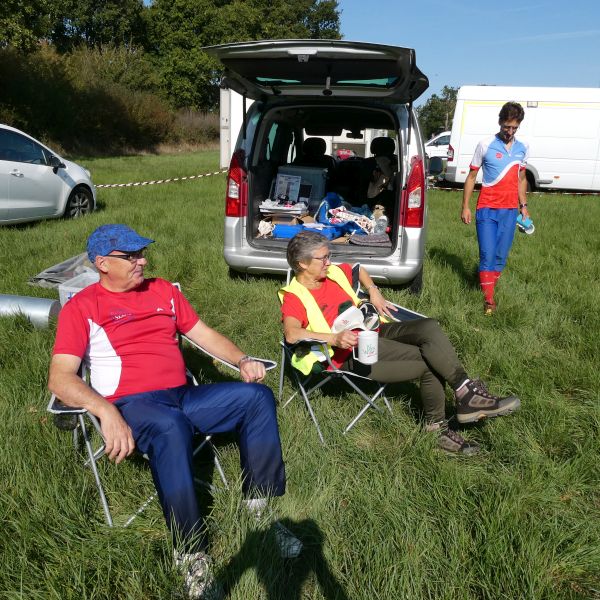 Club Kit
A reminder that the club has kit available for members, including the brilliant new O-top. Club Kit Webpage.
Street-O
Website Post about this month's Street-O in King's Cross
'Streetspace' Orienteering
In conjunction with Transport for London (TfL), British Orienteering has launched five 'Streetspace' orienteering challenges around London. Each of th e challenges takes the form of a 'photo-O' where you need to visit 12 locations using a Street-O map and decide which of the 12 photos provided is the correct one for each location.
While the challenges are primarily intended to engage a non-orienteering audience (using TfL's communication channels, including this press release)…
You might enjoy doing some of them! Each challenge is intended to take around 2 hours to complete at walking speed an d while there is no timekeeping, each correctly submitted set of answers is entered into a draw to win one of eight London Transport Museum picnic sets
The five locations are Battersea, Clapham/Brixton, Westminster, Camden and Dalston, the first three of which were compiled by SLOW members Ed Catmur, Vinh Phuong Hoang and Rebecca Slack, so thank you to them!
Matthias Mahr, Street-O coordinator (

)
CompassSport Cup
Long ago, at the last race before Lockdown on Hampstead Heath SLOW won the South-East heat of the CompassSport Cup. This qualified us for the final which would have been in Sutton Park in the West Midlands on 18th October. It's "postponed/cancelled tbc."
I was perhaps not the only one reminded of this last Saturday night as I put my control descriptions for Glover's Wood – provided in advance for the COVID protocol – in the control holder… taking out the Hampstead Heath ones dated 15 March.
JK2021 is cancelled
International Orienteering
With the cancellation of the European Junior and Youth Orienteering Championships which were to be in Hungary there is only one meeting left in the 2020 calendar. That is Euromeeting, in the north of the Czech Republic at the end of October. This is the warm-up event for next year's World Championships.
There are currently 33 British entries for Euromeeting, the largest entry from any nation, but with the Czech Republic now on the redlist we'll have to see what happens. Finland has said it is not sending any teams abroad this year.
By the way, entries for the spectator races for the World Champs have recently opened and may sell out quickly (if they have not done so already.)
See this discussion on Nopesport.
So it has been domestic championships that have been the story, with the big orienteering countries having just held them (Switzerland, Norway, Finland) or being about to hold them (Sweden).
But rather than any links in those directions here's a few pictures from a wedding in Austria. Would you guess the bride is an orienteer?
Mole Valley Winter Street O Series – on MapRun
From Justin Farhall:
This year the events are 'virtual events' meaning that they are available for participants to try at a time of their choosing (day or night). Maps will be printed at home and the results logged using the MapRunF app that will give you your score and time straight away. There is a seven-day window for participants to have their score included in the results for the event and series.
I am hosting the first event from Tuesday 22 to Monday 28 September. It's around the streets of Stoneleigh. To enter please email me (link redacted for website post) and I will send you what you need.
Whilst the course is designed to be run at a time of your choosing, I am offering the opportunity for individuals or small groups (five or fewer, for a reason you might guess) to meet me at the start/finish in a socially distanced manner, at a mutually agreed time, to issue maps and replicate a normal event and to increase the competitive edge. Let me know if you are interested in this option.
The course is free for all to try so even if you are not sure whether you will give it a go there is no harm in contacting me for more details.
Bushy and Richmond Parks
Consultation about parking charges in the Royal Parks – online questionnaire.
Paul Street