Results from the 31st Box Hill Fell Race
Results are here. Click the tabs at the bottom to see the team results and results grouped by age class. Photographs of the race, courtesy of Angus Lund, are on Flickr here. You can also see the original race details.
Organiser's Report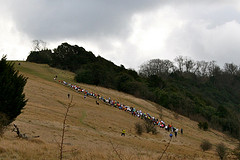 It's always good to see new faces come though to win, but especially when the face belongs to a "junior", which means under 21 in these terms. Joe Morwood became the youngest ever winner of the race, and by breaking into the all-time fastest times becomes only the tenth person to break the 50 minute barrier. He managed this despite being totally unfamiliar with the course, which was something that gave the chasing Harold Wyber some hope all the way round. Harold was 12th last year and had very much his best run over the race. Third place went to another "junior", Alan Cherry from Oxford University Orienteering Club, followed by his team mate, Ben Stevens. It was a pity that one of their entrants couldn't make it as they may well have taken the team prize.
Fifth was 39 year old John Smallwood and he told me he would be aiming for the veteran prize next year. First veteran for the second time was the legend that is Chris Beecham, eleven time winner of the race. Chris was a minute behind John this year, but a minute ahead of him last year, so next year's battle could be interesting. Less than a minute behind Chris was the first super-vet, Chris Phelan – that must be the best "age-adjusted" run of anyone. Geoff Newton again took the over-60s prize, perhaps for more times than he cares to remember. 81 year old Peter White was our only starter over 70 and he finished in 251st equal place.
Although youngsters dominated the men's results, in contrast veterans' swept the board for the ladies. Rachel Bennett just pipped Victoria Basquill after a race-long duel, with Rebecca Black in third. Between them they reminded me that forty-somethings look younger every year.
First under-40 was Iona Craft just ahead of SLOW's Abi Weeds. Katherine Harvey was first super-vet and Claire Hall the first (and only) over-60.
The team result proved to be very close and Springfield Striders regained the title despite a higher score than they achieved in fifth place last year. They achieved this despite their fourth and last scorer finishing in 83rd place. Another multiple winner from previous years, Tring, were close behind, and then Dorking and Mole Valley. Tring were the best represented club with 23 finishers. We fail to give a ladies' team prize for the simple reason that it's too difficult to work out at the time. This year three clubs had at least three female finishers, with Serpentine being well ahead of Dulwich and then Tring.
TEAM RESULTS

1 Springfield Striders	122	9  Cambridge Harriers	362
2 Tring R C		130	10 The Stragglers	367
3 Reigate Priory	135	11 Bishops Stortford RC 419
4 Serpentine RC 	199	12 Cambridge Harriers	467
5 Tadworth AC		233	13 Dorking & Mole Vall.	493
6 Guildford & Godalming	259	14 SLOW			530
7 Rowena's Runners	332	15 Portsmouth Joggers	751
8 Dulwich Runners	361

We again filled the entries in good time, putting up the "race full" signs 2 weeks beforehand. We accepted more than the 250 limit, knowing that there would be several no-shows. With 252 finishers we seemed to have that about right. We are quite happy with the race being pre-entry only as that saves a lot of volunteer time on race day.
Thanks go again to all the usual suspects. Neil Edeson and the staff at Friends Provident for use of the car park and social club. And of course the many helpers from SLOW – Dan (entries), Mike M, Martin, Richard, Mike G, Peter, Chris, Angus, Elaine, Linda and Nigel. Missing from that list is the late, great Dick Clark, who did entries and results for more years than I can remember. Sadly he lost his battle to cancer last October. He was sorely missed.
Keep an eye out for SLOW's races in the summer. The Surrey Hills Races are just the other side of Dorking on Sunday May 27th. Although the courses are not flagged they are the same each year and so the navigational burden is eased. Also we will be providing guided course recces with the likely date being April 28th – keep an eye on the website. Slightly trickier are the Summer Trail Challenge races – a series of three 10km races, where the course to be navigated is revealed just before the start and you only have a few minutes to study it and discuss it with your mates. These are on summer evenings in the Kingston/Richmond area. We hope to see you at some of these.
Report by Andy Robinson. Photographs by Angus Lund.